Image courtesy of Compass Real Estate
Set back on a charming tree-studded lot in elegant
Los Altos
, this masterfully designed two-story property took homebuyers' breath away when it first landed on the market. A classic farmhouse-style home with elegant modern finishes, the sleek retreat built in 2019 flaunts the characteristic grandeur of a multi-million dollar property but melds in quiet harmony with its lush, natural backdrop.
Sprawling across 6,200 sq. feet with 5 bedrooms, 6 bathrooms, and ultra-modern features, 1460 Oakhurst Avenue is a testament to timeless sophistication and environmental stewardship, offering radiant heating systems, EV charging, and solar power for net-zero energy. Its strategic location in this prestigious California enclave ensures the owner is only minutes from downtown while enjoying the seclusion and peace that naturally trail Silicon Valley living.
Transport yourself to a world of ultra-luxury amid Oakhurst Avenue's combo of lavish rooms, airiness with high glass ceilings, and clerestories pouring in natural light. The property features a formal dining room, state-of-the-art kitchen, family room with a fireplace, 5 full baths, and 2 half bathrooms, while a translucent solar-heated pool awaits in the courtyard, its setting designed to resemble a minimalist resort.
Tasteful and exquisite, Oakhurst Avenue, with its bedazzling amenities, makes living a dream, polishing an unbreakable connection to the outdoors and perfect for sunny days spent lounging by the poolside.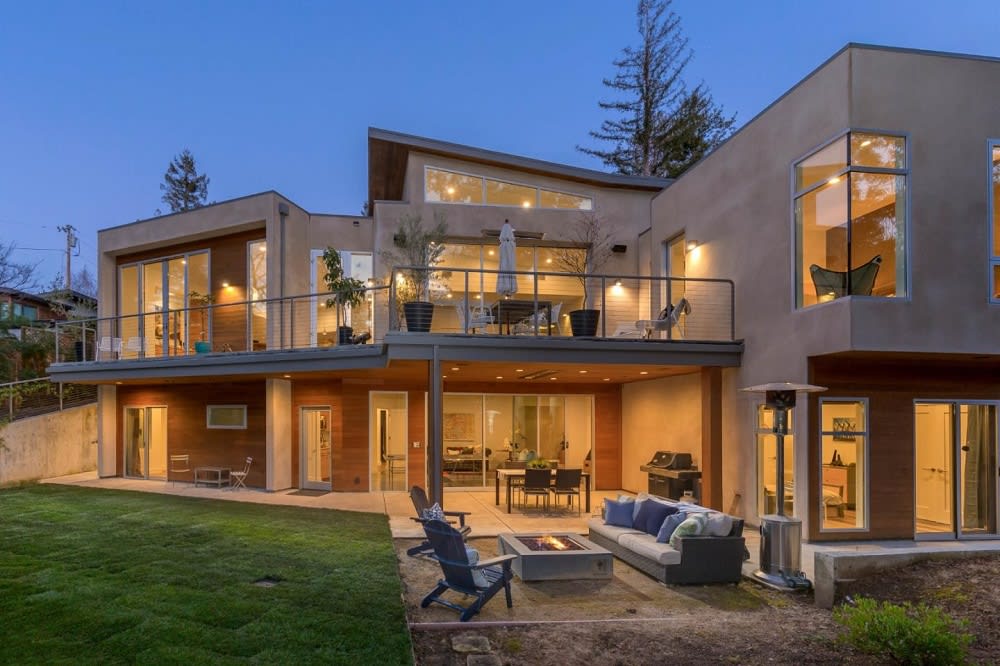 Image courtesy of Compass Real Estate
454 Cypress Drive is the epitome of contemporary sophistication. A sleek solar-powered masterpiece of disappearing glass walls and baronial white-walled rooms, this property features a distinctive aesthetic that highlights its graceful flair. Built in 2014 on a sprawling 0.35-acre lot dappled with the finest landscaping, Cypress Drive is a unique interpretation of the modern, high-tech style, cool and chic with avant-garde furnishings, clerestory windows, a glass cantilevered staircase connecting the two levels, and excessive space.

Heated concrete floors mark the rooms of this detailed home, from the kitchen to the recreation room and breakfast bar. But you'll also find oak floors polished to a shine in the bedrooms, family room, and living room of this 4,912 square-foot house. On the ground floor are the master bedroom and master suite removed from the 6 bedrooms of a house boasting, among other things, 4 full baths and 1 half bathroom, each touched with a tasteful selection of mosaic, tiles, and quartz. Careful attention was paid to the fittings in each, ranging from the double sinks to the dual flush toilet, oversized tubs in the master bedroom and suites, stall showers, and showers over tubs.

Skylights beam from the vaulted ceiling, and a combo of double-pane windows, tankless water heater, wet bar, video/audio system, and walk-in closet round out the utilities. You'll also find storage, a wine cellar, a kid's playroom, and a utility room on the second floor.

Outside is an attached garage with space for two cars. A wooden mixed-height fence barricades the spacious backyard, ornate pillars dwarfed by the lush trees beyond the house. With a sprawling green lawn and low gurgling sounds of the Adobe Creek, the yard holding a BBQ area and outdoor fireplace is perfect for casual family celebrations or little parties in the evening.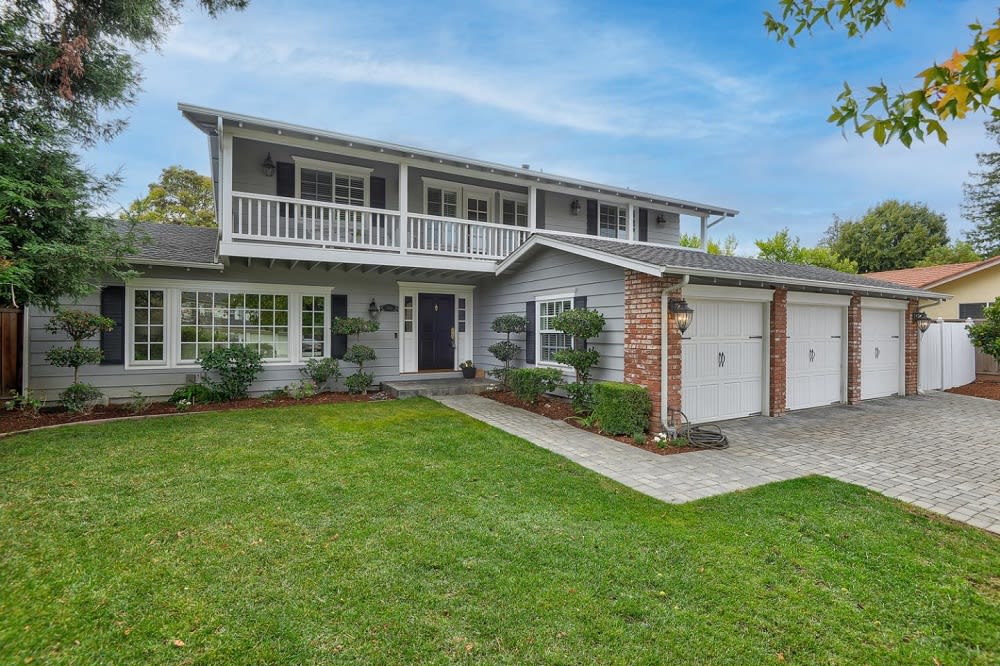 Image courtesy of Compass Real Estate
Splendid, elegant, and spacious, this picture-perfect property on Selig Lane brims with immaculate curb appeal. Built in 1967 and fully remodeled in 2007, the 2-story home set on a quiet cul-de-sac retains remarkable qualities from its 20th-century genesis, boasting the perfect balance of modern living with nostalgic charm.

Resting on an impeccably landscaped 0.25-acre lot, Selig Lane is outfitted with high-end finishes, embracing illustrious custom features like a formal entry, open concept dining room, solar panels, and a 3-car garage with an EV charger. Holding 4 bedrooms and three bathrooms appointed with marble, travertine, or limestone, double sinks, stall showers, and tubs, including one spa-like bathroom, the house covets 2,857 square feet of living space and features a central AC and multi-zone cooling system, solar heating, double pane windows, and a wet bar, among other amenities.

The kitchen meets the standards of any Michelin-starred chef, with a gourmet set-up featuring a granite countertop, GE appliances, and a wine refrigerator. You'll also find a laundry room upstairs, and outside, the backyard beckons with a beauteous setting, a narrow slice of green lawn stretched alongside the brick deck and shaded in lush green.

With its aesthetic and state-of-the-art utilities, Selig Lane teleports you to a place of innate privacy while still offering a convenient location to the prestigious Los Altos Elementary School, as well as downtown Los Altos.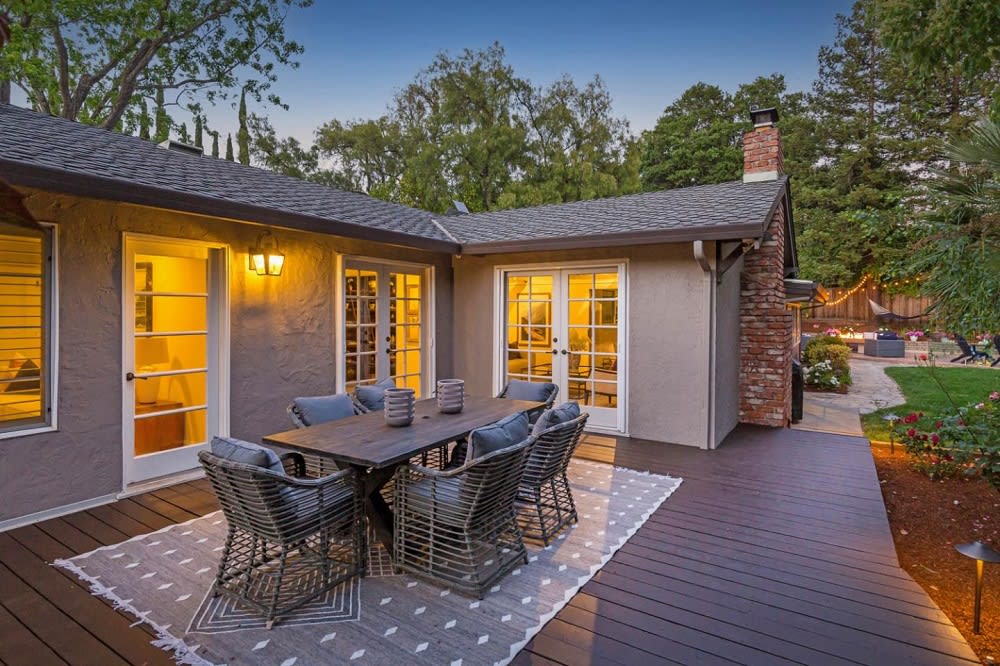 Image courtesy of Compass Real Estate
The one-story Magdalena Avenue home is a sight to behold. Set on a sprawling 0.40-acre lot speckled with trees and fine landscaping, this house built in 1958 embraces a flowing floor plan and designer-style finishes with top-of-the-line amenities, fresh updates, and a perfect hallmark for classic meets modern.

Spread out across a 2,366 square feet living space, the spacious home sports a composition roof, multiple decks, and a two-car garage with an off-street parking space. A vaulted ceiling with exposed beams greets you as you step into the stunning living room, featuring a brick wall with a polished wood mantel and fireplace. Vinyl floors tie the 4-bedroom house, leading from the formal entry to the separate family room, dining room, and eat-in kitchen featuring quartz countertops and backsplashes, shaker-style cabinets, and appliances.

A 396 square feet sunroom overlooks the beautiful grounds and can be adapted into a game room, office, or gym. The private master suite contains a walk-in closet, spa bath, and ornate French doors leading out to the ultimate entertainer's backyard with a fire pit, glass-fenced neon pool, in-ground spa, and mature landscape dappled in redwoods and perfect for daily escapes to your secret garden.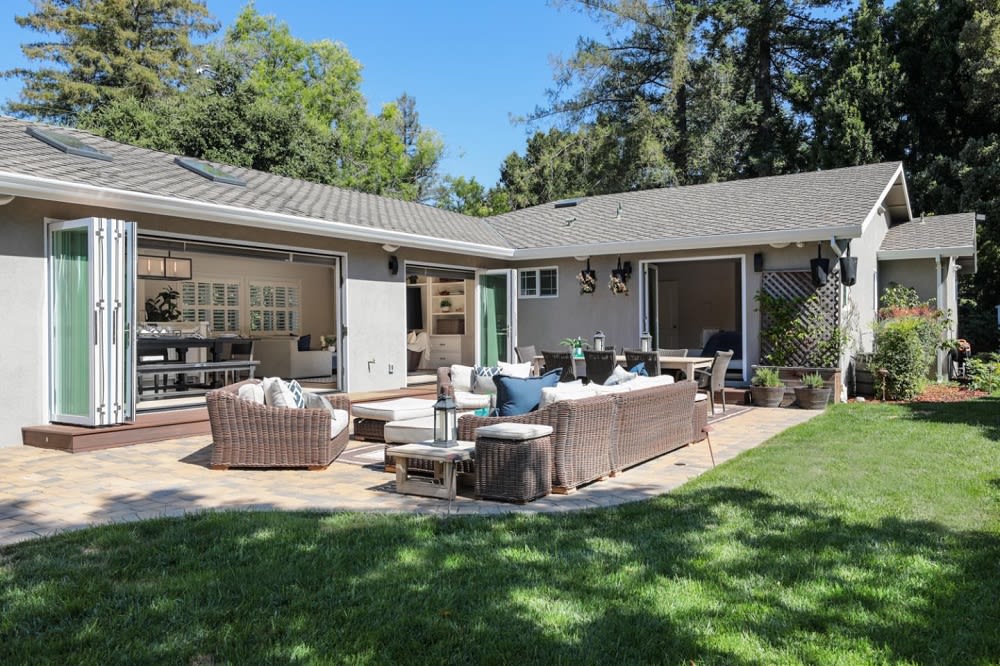 Image courtesy of Compass Real Estate
Timeless sophistication meets modern design in this exotic one-story stucco house. Originally built in 1939, Payne Drive has been completely renovated into a contemporary showpiece, boasting 2,530 square feet of flowing living space with a fully open floor plan.

It is set behind a shadow box white picket fence held up by two ornate posts at the main entrance of a 0.26-acre corner lot. Engineered with high-end modern utilities interweaving vintage artistry, Payne Drive lures you into a charming space of high ceilings with skylights, white oak floors spread across every room, and automated window blinds. Among its 4 bedrooms is a master suite with exciting features and a walk-in closet. The home holds 3 full bathrooms and 1 half bath, each tiled and fitted with double sinks, while the master bath features a tub with jets.

Skylights beam over the dining room, bathrooms, and kitchen, the latter shattering all standards with a 60 Wolf dual fuel range, Sub-Zero refrigerator, quartz countertops, and an island with sink plus exhaust fan, garbage disposal, wine refrigerator, and warming drawer. A central AC cools the entire house, while forced-air is installed for heating.

A LaCantina accordion door leads out to the backyard from the kitchen, and outside, you'll find a 2-car garage with high-speed EV charging, auto sprinklers on the lush lawn, and storage shed.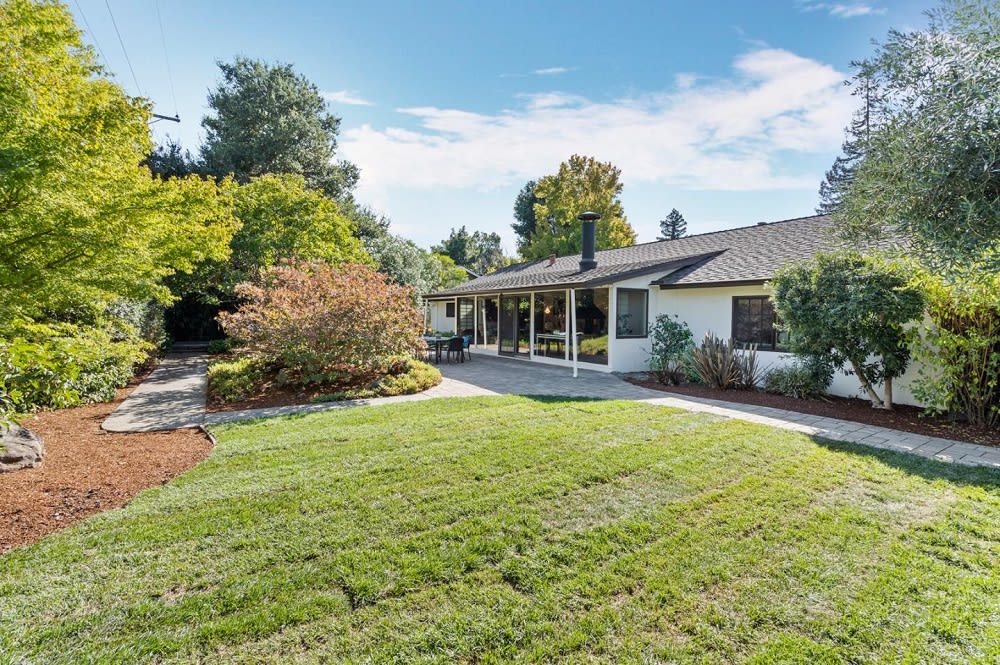 Image courtesy of Compass Real Estate
Tucked in an exceptional corner of prestigious Los Altos, this mid-century modern home offers more than just the architectural aesthetic. Built in 1957 but completely refined across the decades, Newcastle Drive rests on a perfectly landscaped 0.23-acre lot set back on a charming street.
Sprawling across 2,135 square feet with 3 bedrooms and 2 bathrooms, this dazzling property with lavish spaces sets the stage for a luxurious lifestyle with access to major conveniences in sunny California. Newcastle Drive lies only a walking distance to several shopping spots,
Starbucks
, and major commute routes, hence its unparalleled appeal.
White walls and hardwood floors mark the magnificent rooms of this property, ranging from the master bedroom on the ground floor to the dining area in the living room and the eat-in kitchen featuring Corian countertops, a dishwasher, a hood oven range, and a freezer. The spacious living room holds a welcoming fireplace, and additional rooms include a hobby room, study, storage, and workshop.
Are you looking for a luxurious Los Altos home?
Gretchen Swall
is happy to serve as your Los Altos real estate expert while answering any questions you have about Los Altos homes for sale.
*Header image courtesy of Compass Real Estate