Located in the northern Silicon Valley, Los Altos is a beautiful community in which residents can enjoy some peace and quiet, as compared to the big cities surrounding it: San Jose, Cupertino, and Palo Alto. The city of Los Altos grew with the tech boom as it emerged in Silicon Valley, with the greatest population growth occurring between 1950 and 1980. Since then, population growth has stabilized, and residents here love the top-rated school systems, easy access to bigger city amenities, and a relatively affordable real estate market, among other reasons.
If you have recently moved to Los Altos — or are looking to relocate to this beautiful bedroom community — you may be interested in finding an amazing interior designer to help put your unique stamp on the style, taste, and overall feel of your home. Look no further than this helpful guide to help you get to know the top-rated interior designers in the Los Altos area.
CDS Interiors
Colleen Dowd Saglimbeni is the name, face, and design maven behind the CDS Interiors brand. After attending the prestigious Parsons School of Design, Colleen spent many years working in the fashion and retail industries. There, Colleen gathered experience designing and managing a variety of high-end fashion labels. She prides herself on utilizing the experience gained by having a working knowledge of budget management, space planning, and materials.
Having come from an art background, Colleen makes her relationship with the client the top priority, as she simultaneously balances the client's sense of style with the maximization of the agreed-upon budget. CDS Interiors is a full-service design firm that offers anything from a detailed room design to a full-scale renovation.
CDS Interiors has a broad range of experience in designing spaces ranging in style from Mid-Century Modern to Spanish Colonial to Modern Tudor and beyond. Be sure to check out the stunning kitchens that CDS designed for the Sol Mateo Kitchen Tour in 2017, 2018, and 2019 as magnificent examples of their work. Other CDS designs worth looking into to view the range of work include the Pied-à-Terre, French Chateau, and Mediterranean Estate designs.
With such an impressive range of expertise and such a diverse design portfolio, CDS Interiors remains one of the very best in the business near Los Altos. To consult with CDS Interiors about your potential project, contact them today. To stay up-to-date with the latest updates from CDS Interiors, don't forget to follow their Pinterest and Instagram pages as well.
Credit: CDS Interiors
Lisa Furtado Interiors
Lisa Furtado Interiors, founded by Lisa Furtado, is located near the San Francisco Bay area and is a full-service design firm that specializes in high-end residential design. Having worked a successful career in the biotech industry for many years, Lisa rediscovered her love for the interior design world while on maternity leave with her third child. By utilizing invaluable experience in leadership, vendor management, and teambuilding, Lisa is able to apply lessons learned in the laboratory to her work in the design world.
With strength for seeing eye-to-eye with every client — no matter how picky the personality — Lisa has applied her unique background to juggle the needs of the client while constantly striving for forward-thinking and innovation. Self-described as "traditionally rooted with a modern edge," Lisa has created timeless designs that honor her clients' wishes, lifestyles, and tastes.
For a sampling of Lisa's work, catch a beautiful glimpse into her impressive design portfolio that can be found on her website. In addition to being selected as the HGTV Editors' Pick for the Designer of the Year Awards in 2020, Lisa has also been recognized in a number of other prestigious publications.
There is no question why Lisa Furtado Interiors remains one of the most highly recommended interior design firms in the Los Altos area. Contact Lisa today to get started on the project you have in mind, or keep up with her latest updates on Facebook, Instagram, or Pinterest.
Credit: Lisa Furtado Interiors
Sullivan Design Studio
Another top-notch interior design firm serving Los Altos is Sullivan Design Services, located in Menlo Park. At the helm of this prestigious design studio is Linda Sullivan, who has assembled a design team with an outstanding range of expertise and specialties. Sullivan Design Services, or SDS, is a full-service interior design firm that carefully caters to individual clients and their needs.
Whether a project requires construction documents, 3D visual elements, project management, or FF&E selections, SDS thrives at meeting each unique client's goals and expectations. SDS also prides itself on ensuring the design budget and schedule come in right on cue.
Take a closer look at some of SDS's best work by exploring impeccable residential projects, as well as a collection of outstanding commercial projects. It should also be noted that SDS has received an astonishing list of accolades, including two 2021 Luxe RED awards, as well as making the 2021 Luxe Gold List.
All-in-all, Sullivan Design Studio is undeniably at the top of the list for the best Los Altos interior design firms. To schedule your consultation, contact them today, and to catch up with the latest SDS updates, be sure to connect with them on their Instagram, Facebook, Houzz, and LinkedIn pages.
Credit: Sullivan Design Studio
Julie Rootes Interiors
Next on the list of reputable Los Altos interior design firms is Julie Rootes Interiors. Julie Rootes, the mastermind behind the brand, got her start in the career world with a degree in business from Texas Christian University. Having gained experience as a buyer for Prada, Julie took note of the attention to detail and discerning design eye that it takes to survive in the fashion world. Later, after moving to California, Julie attended the San Francisco Academy of Art and started her prestigious firm in 2011.
With a reputation for catering to each client to produce classic, extraordinary spaces, Julie Rootes Interiors seeks to make the design process as enjoyable as possible. Julie takes pride in the number of repeat clients that return time and time again to gain her invaluable design sense and expertise.
Julie's impressive portfolio of work includes a fabulous dining room from the 2015 Napa Valley Showhouse, a chic powder room for the 2015 San Francisco Decorator Showhouse, and a whimsical take on a master bathroom for the 2019 San Francisco Decorator Showcase. Other great examples of her work include a California rustic home, this colorful craftsman, and an amazing home with coastal vibes.
Julie Rootes Interiors should be at the top of your list for interior firms to check out near Los Altos. Contact her today to get started on your custom design, and check out her work on her Instagram, Facebook, and Pinterest profiles.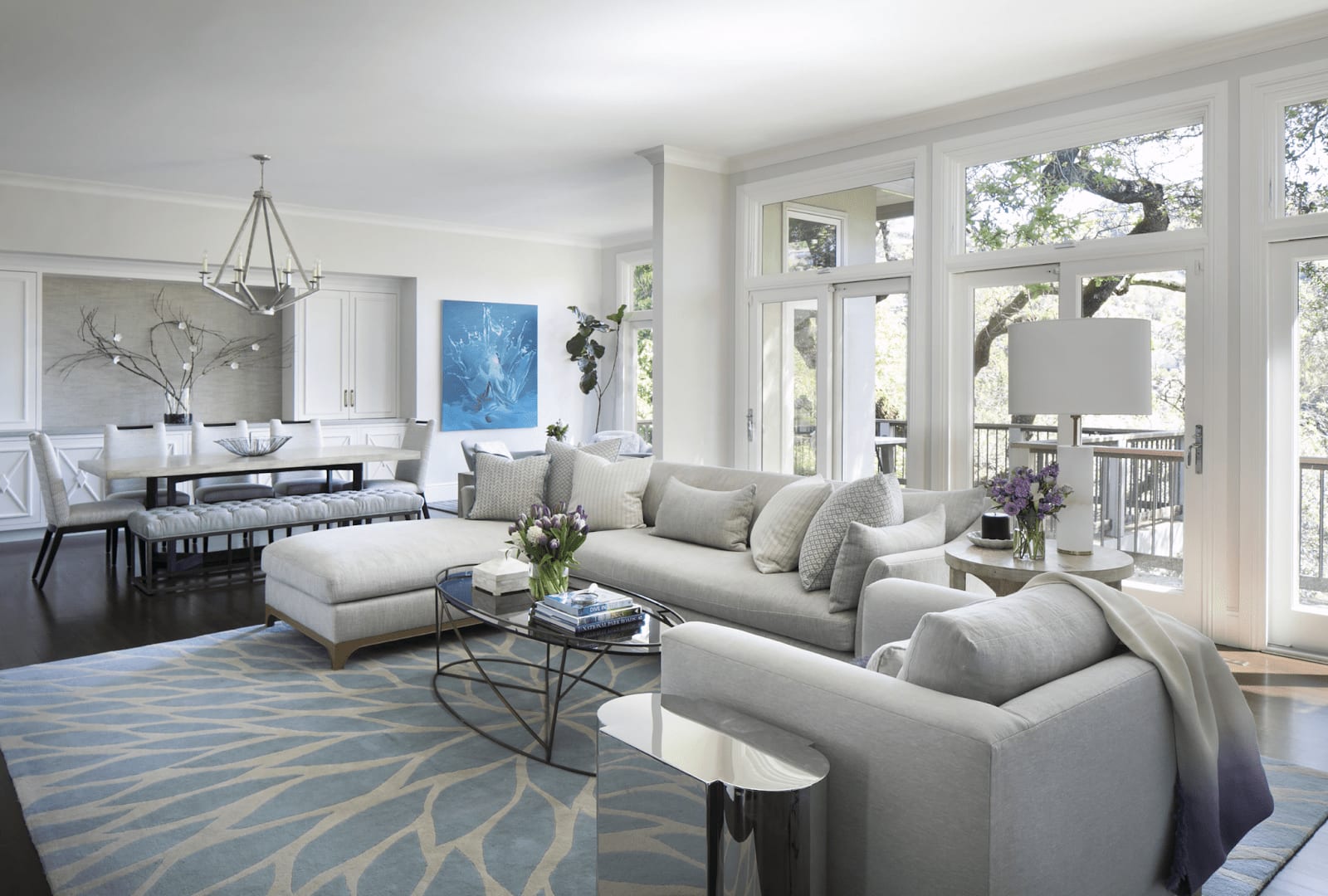 Credit: Julie Rootes Interiors
Evars Collective
Brand new to the San Francisco interior design scene is the Evars Collective, founded by Nancy Evars in early 2021. By harnessing over 15 years of experience as a designer in the Bay area, Nancy established this trade-only store that caters specifically to interior design professionals in the area. This exciting showroom features cozy vignettes that showcase a custom furniture line and curated art pieces.
Each vignette is intended to be inspiring and fully shoppable, meaning design experts can help you to incorporate each item on your wishlist into your custom design. The Evars Collective seeks to help the area's interior designers expand their businesses by offering a tailored service to its client base.
While the Evars Collective is just getting its start, you can take a look at the fun and flirty Champagne Bar, the sophisticated Style Lab, and this exhilarating view of the showroom floor. While the Evars Collective caters mostly to working interior designers in the area, they offer a handful of events where members of the general public are welcome to attend.
The Evars Collective is certain to make a splash in the Los Altos interior design scene. Contact them today to find out just how they can help you out and don't miss the latest news on this forward-thinking design house by checking out their Instagram page.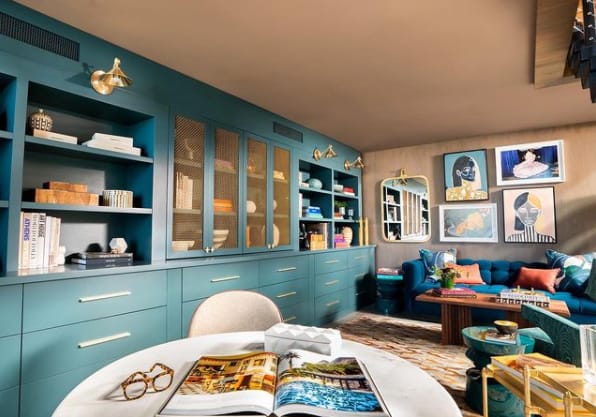 Credit: Evars Collective
While there are countless reasons to hire a professional interior designer, perhaps the most important reason to do so is that they are visionaries crucial for executing your ideas. They are trained in bringing your vision to life before your very eyes. As a Los Altos resident, you have the incredible peace of mind that comes with knowing that the best interior design expertise in America is at your fingertips. Whether your dream home is rustic-chic, mid-century modern, or minimalist, you have a number of excellent options at hand when choosing the interior designer that is right for you and your design vision.
Are you looking to purchase a Los Altos home or to relocate in the near future and need to find a trusted, local real estate professional that can partner with you during the journey to landing your dream home? If so, then look no further than Gretchen Swall. With over 35 years of experience under her belt, Gretchen makes her client's needs and wishes her top priority during the house-hunting process. Contact her today to get started.