Palo Alto is most widely known as the home of world-renowned Stanford University and the birthplace of Silicon Valley.

Although education and technology take center stage in this community of nearly 70,000, Palo Alto derives much of its charm and historical character from its surprisingly diverse architecture.

Dating back to just before the city's incorporation in the mid-1890s, outside influences have long informed Palo Alto's real estate scene.

Without an overriding codification of city buildings or neighborhood developments and Stanford University's ever-growing global reach, varying architectural styles, each with their own distinctive character, were allowed to flourish throughout the city's significant growth periods.

That influence remains visible today in the various styles of homes and structures throughout the city. So important is this abundance of architectural history that guidelines now exist in numerous areas of the city to maintain, support, and celebrate the unique cityscape.

Let's explore the architectural styles in Palo Alto and rediscover one of the most significant collections of classic homes anywhere in the country.
Queen Anne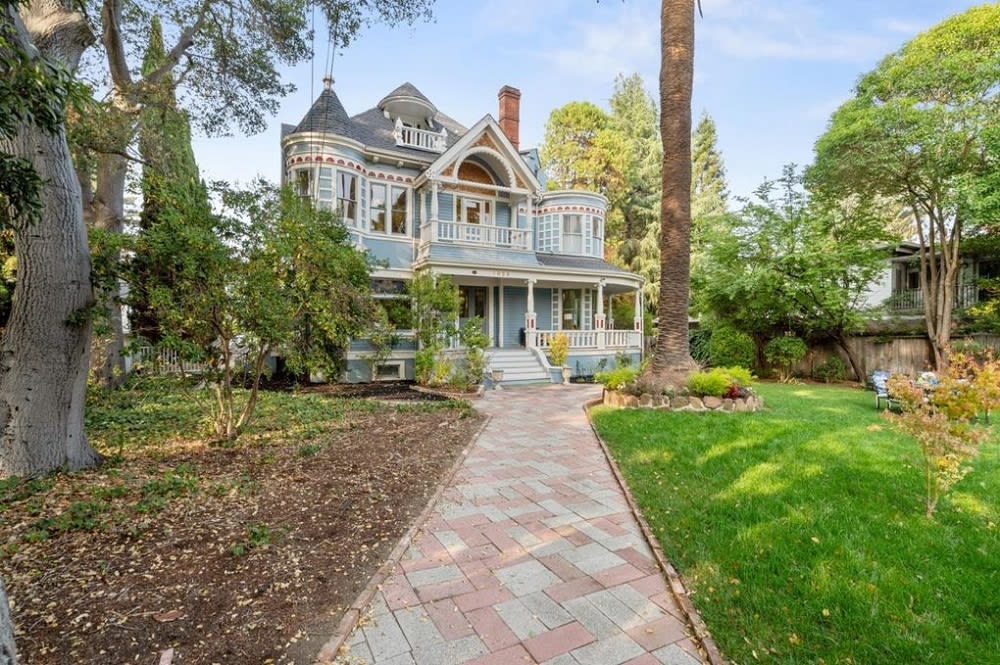 In the earliest days of Palo Alto's development, the Queen Anne architectural style represented the preferred statement maker for new settlers carving out a home in the city. It was also the primary choice for the fledgling fraternity houses at Stanford University.

A natural, if somewhat more extravagant, evolution of earlier Victorian homes, Queen Anne homes were spacious, grand affairs. Featuring irregular, steeply pitched roofs, abundant gables, bay windows, highly decorative and intricate ornamentation, wide, spacious porches, and imposing turrets or towers, they commanded attention in a city making a name for itself.

The Queen Annes that populated the Palo Alto streets of Cowper, Emerson, and Waverly at the turn of the 20th century were status symbols. Their textured layers offered a different look and feel depending on which angle of the house caught your eye.

Around the same time that Queen Anne architecture was prevalent in the U.S., two additional somewhat similar styles popped up throughout Palo Alto. The first is the Stick-Eastlake design, which featured even more ornate detailing than the Queen Anne — think your classic gingerbread house.

The second is the Richardson Romanesque. A confluence of the Victorian and Arts & Crafts movements, these were often public buildings -— city halls, libraries, post offices, or court buildings — or churches with facades covered in stone. The Stanford Memorial Church on the university's main quad is a well-known example of Romanesque architecture.

You can still find many Queen Annes in all of their glory across Palo Alto, including Crescent Park, where a fully restored circa-1900 home sold for $4.7 million in 2020.
Craftsman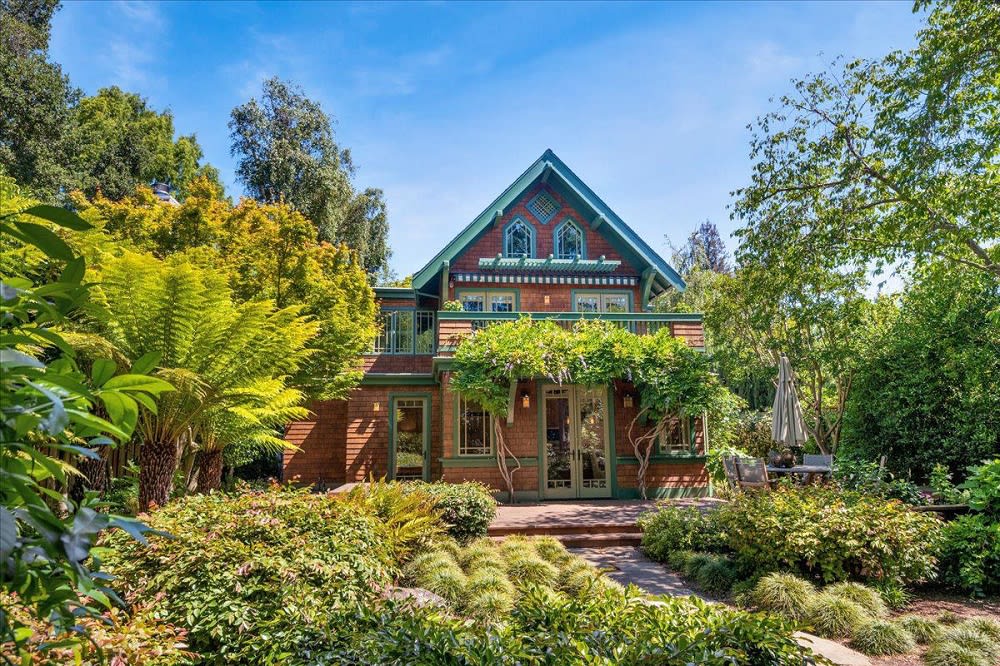 The Craftsman home is arguably one of the most widely recognizable home styles in the American West — so much so that a modern-day branch of the style is called the California Craftsman.

In Palo Alto's earliest days, these modest yet incredibly popular homes incorporated natural elements and materials and focused on outdoor living.

Sometimes confused with the Shingle-style home, which was and remained a dominant style on the other side of the county in New England (the classic seaside summer home), Craftsman homes represented an attempt to blend naturally into the surroundings.

Craftsmans (also called the Craftsman bungalow) most notably sported a low-pitched, gable roof, exposed rafters that supported wide, overhanging eaves, and ornamental brackets.

Homes of the Craftsman movement were often distinguished by their front facades. Gables can be set as front, side, or cross-gables, and the distinctive front porch can be positioned on either corner or stretch the width of the facade under the roofline.

One of Palo Alto's grandest Craftsman style residences is a Melville Avenue home built in 1905 — it even has a spot on the National Register of Historic Places. A multi-year renovation started in 2011 updated the home to modern-day living standards while maintaining its classic Craftsman heritage.
Mission Revival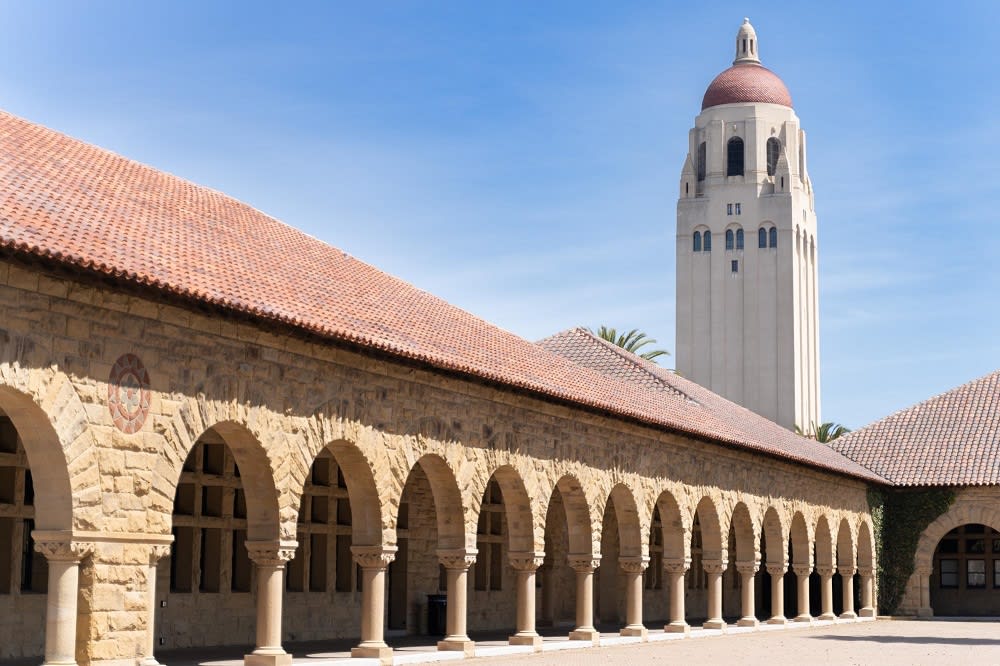 A decidedly western style of architecture — it actually started in California — Mission Revival incorporates Hispanic traditions while establishing a unique form all its own.

Taking its cue from the late 18th and early 19th-century Spanish missions that dotted the California landscape, Mission Revival architecture was most prevalent in Palo Alto and the surrounding region from the late 1800s into the first decade and a half of the 20th century.

Building features include a roof parapet in a classic mission shape, red clay roof tiles, wide overhanging eaves with exposed rafters or decorative brackets, arched ground-level windows or doorways, large continuous stucco walls, and set-back entry or walkways. The most true-to-form examples center the exterior building around a courtyard, though this is not always practical.

The entire design movement served as a marker of sorts, indicating to those traveling west that they had left the older, more traditional areas of the county behind. Trek across the southern U.S. and into New Mexico, Arizona, and then Southern California, and the transition is abundantly clear.

As such, rail stations and hotels most often adopted the style at the height of the movement. Elements of Mission Revival can be found in numerous homes in Palo Alto and on the Stanford campus.
Spanish Colonial Revival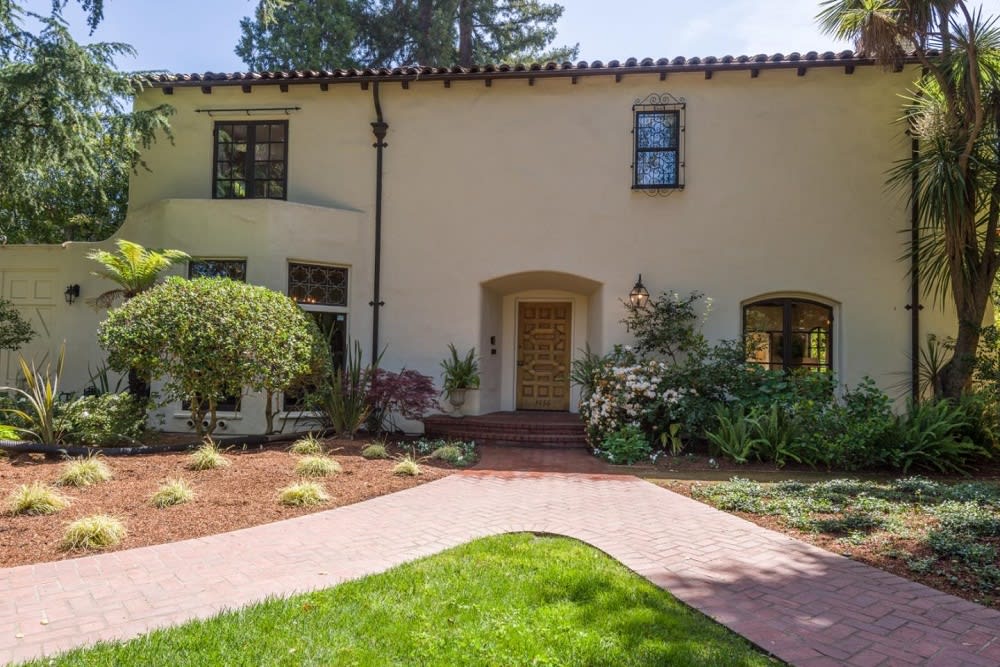 Despite the city's architectural diversity, perhaps no other style is more synonymous with Palo Alto than Spanish Colonial Revival.

Taking inspiration from both Spain and Latin American influences, the American interpretation features a low-pitched, nearly flat roof, bold red tiles, an absence of any pronounced eave or overhang, stucco exterior surface, and arches over the main entry door and select windows.

One of the more notable aspects of this style is the asymmetrical facade. Elevations often include the added curiosity of various sized windows, some of which may be disproportionately small, and large swaths of uninterrupted stucco walls. Some iterations will consist of both subtle and opulent ornamentation, including wrought iron or cast iron creations. The most elaborate designs are usually saved for the primary entry.

Spanish Revival is almost exclusively featured in Florida, Texas and the Southwestern U.S. Palo Alto has famed architect Birge Clark to thank for the style's prevalence throughout the community.

Between 1922 and 1930, working from an office in the city, Clark crafted 98 homes throughout the city (his residential work is particularly noteworthy in Crescent Park) and another 39 residences for the Stanford community. Spanish Colonial Revival was Clark's prevailing design aesthetic, and it's reflected across town.

Clark's influence and Spanish revival flourishes informed several public buildings, including the U.S Post Office on Hamilton, a handful of the buildings and structures on historic Ramona Street, and the Lucie Stern Community Center.

More than almost any other individual, Clark is most responsible for how others perceive Palo Alto's architectural heritage.
Mid-Century Modern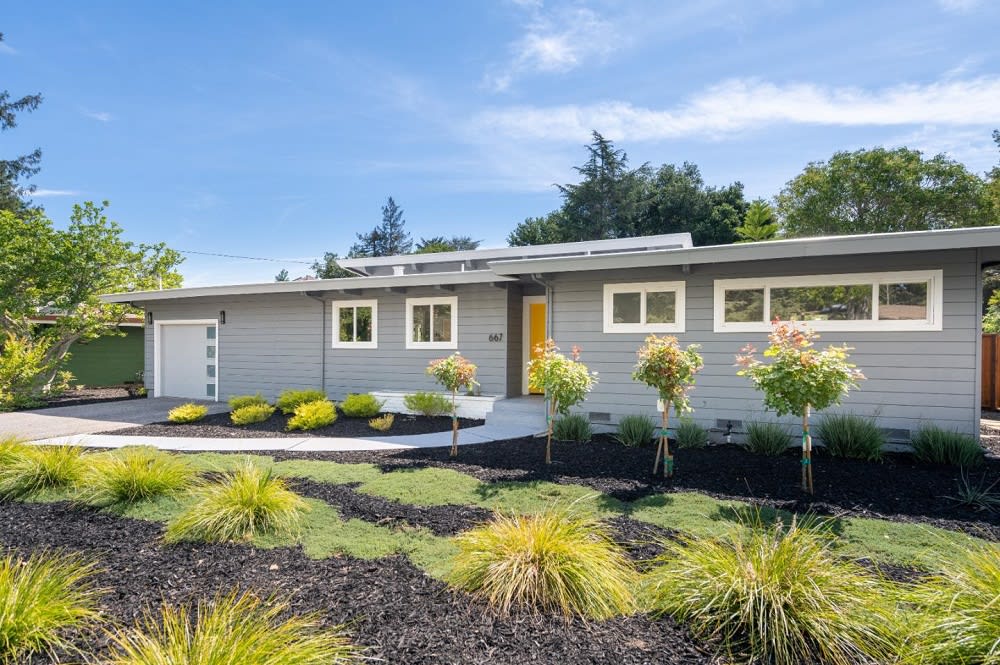 As Palo Alto transitioned from a nascent college town to the vibrant hub of Santa Clara County and the larger South Bay Area, so too did its architectural tastes.

From the 1940s to the 1960s, the ubiquitous mid-century modern movement swept through the city, just as it did the rest of California — though not to the scale or prominence it did in places such as Palm Springs. There was a heady period where a collection of architects filled a growing need for housing using strictly mid-century modern home design.

The antithesis of every home style that came before in Palo Alto, mid-century modern had its roots in the Prairie style made famous by Frank Lloyd Wright. Mid-century homes feature single-story designs with sharp, clean lines and a commitment to indoor-outdoor living. Entertaining spaces in these homes are often large and include floor-to-ceiling windows, skylights, and glass transoms in more elaborate designs.

Although several architects had a hand in bringing mid-century modern to town, none were more prolific than Joseph Eichler. Palo Alto contains more Eichler homes than any other city and has entire communities filled with his creations, including Fairmeadow, Greenmeadow, and Royal Manor.

In fact, Eichler's contributions in the mid-century style far outweigh Birge Clark's Spanish Revival. Eichler is responsible for over 2,700 homes across 31 different developments throughout the city. If mid-century is more your aesthetic, they're not hard to find.

Along with the five most prevalent homes styles highlighted above, numerous other home styles feature in Palo Alto, including Classical Revival, Tudor, Bay Area Tradition, and Streamline Moderne, to name a few.

It proves that Palo Alto's architectural charm and desirability lies not in conformity and comfort but in diversity and a willingness to chase new ideas and forms, wherever they may lead.

Ready to sell your current home? In the market to buy your own architectural gem in Silicon Valley? Contact Gretchen Swall today and let her be your guide to the best of Silicon Valley luxury real estate. Whether it's luxury homes for sale in Palo Alto or Mountain View or Los Altos real estate, allow Gretchen to be your guide to the best of Silicon Valley luxury real estate.